Newsroom
---
highway 49 - Bay of Quinte Skyway Bridge
Skyway Bridge will be reduced to single lane traffic until December 2023. Temporary Traffic Signals will be in-place to control vehicular traffic over the Skyway Bridge.

VISIT Bay of Quinte Skyway Bridge Rehabilitation website
https://hwy49quinteskyway.ca/
---
TOW ZONE PILOT ON SECTIONS OF GREATER TORONTO AREA HIGHWAYS
The Ministry of Transportation has launched a restricted towing zones pilot on sections of provincial highways
in the Greater Toronto Area
. If you need assistance in a
restricted towing zone:
Call 911 if it is an emergency or if you are in a travelled lane and cannot safely move your vehicle to a safe location
Call 511 if you are in a safe location and you need a tow (select the option for the Tow Zone Pilot)
Only call 511 if you are in a restricted towing zone on a provincial highway (see map below).
Visit
Ontario.ca/towzonepilot
for more information.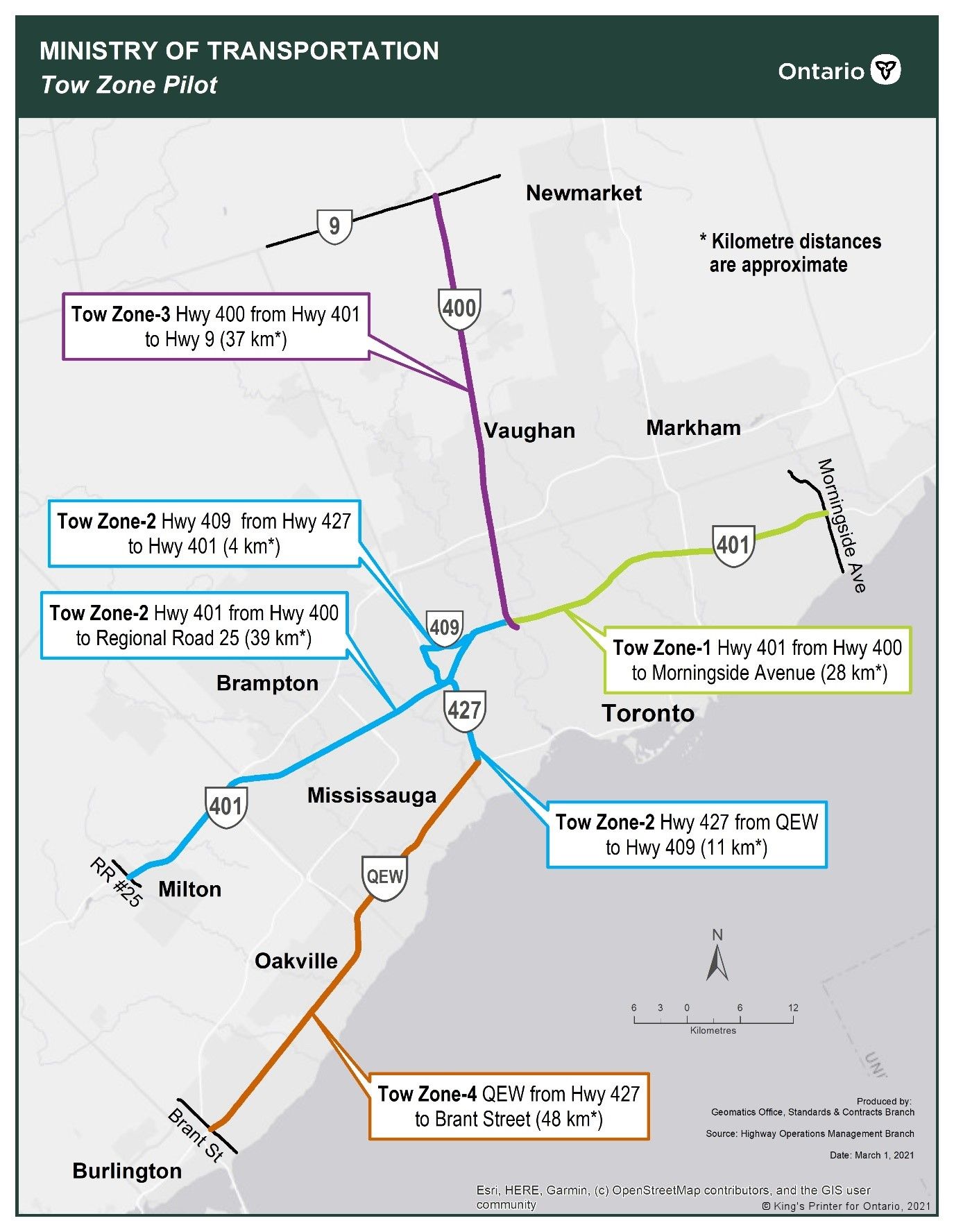 ---
ONTARIO 511 APP
The Ontario 511 app is available to all drivers and includes additional features:

• Track my snow plow which will allow drivers to track the location of snow plows and salt trucks on provincial highways in Ontario
• Winter road condition information so drivers can see which roads are clear or covered in snow
• Weather warnings from Environment Canada to alert drivers of upcoming storms
• Up-to-date information on rest areas across the province

The app also provides images from over 700 cameras and includes up-to-date traffic information on construction, collisions and road closures. The Ontario 511 app is available for free on the App Store and Google Play.

---